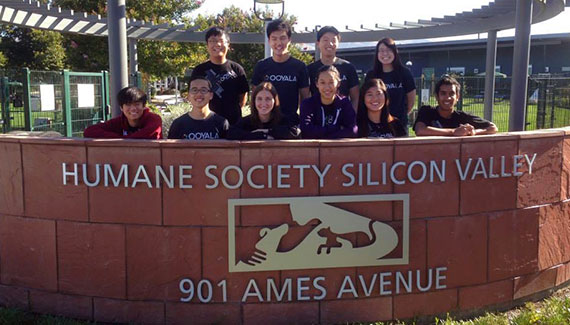 Leveraging foundation-level research to promote company values and culture.
Ooyala is an established video technology company in Silicon Valley that is growing at an incredible pace. Approximately 300 employees worldwide support Ooyala's advanced video and analytics platform, which combines both products and services that help the most successful media companies in the world—from ESPN and VICE to Bloomberg and Telstra—grow their audiences and generate more revenue from video. Since its founding in 2007, Ooyala has grown from a single-office startup to a company that is international both in scope and in operations, with clients in more than 30 countries and offices in Tokyo, London, Singapore, Guadalajara, and Sydney.
Throughout its growth, Ooyala has made giving back a core part of company culture. As VP of Human Resources Michelle Wagner puts it, "Ooyala has a deep commitment to finding engaging ways for our employees to give back based on their personal interests." This commitment to social good is evidenced by Ooyala Cares, an employee-led program to connect Ooyala employees with volunteer and giving opportunities.
The commitment to promoting a culture of altruism and philanthropy has led Ooyala to seek out ways to help employees do good and make a positive impact in the world. Ooyala wants to empower its employees and help them to become effective philanthropists. "It's important to Ooyala as a company to give back, and we want to offer our employees ways to give back more effectively," said Wagner.
Developing a personalized program
The high complexity of the nonprofit and philanthropic space presents a challenge to companies like Ooyala who are committed not just to helping their employees give, but to helping their employees give in meaningful ways. The topic of how best to evaluate the effectiveness of nonprofits is a hotly debated one, and navigating those debates is not always easy.
Ooyala looks for ways to leverage existing research and analysis on nonprofit effectiveness. It is important to Ooyala to be able to provide reliable, up-to-date information to their employees. As Wagner puts it, "we want to provide our employees with the most accurate information out there to help them make informed decisions about their giving."
Wagner continues, "we want to help our employees give smarter and understand how their contributions are producing meaningful results based on their personal passions."
Effortless Deployment
Once Ooyala decided to offer Bright Funds to employees, the Ooyala Bright Funds Workplace Giving experience was up and running within 24 hours: Every employee received an email with information about how to log in to their Bright Funds account and could immediately support the high-impact nonprofits working on the issues that matter to them. Bright Funds' use of foundation-level research to select the nonprofits in each fund meant that Ooyala employees could donate with confidence and know that their money was going to be used effectively and responsibly.
Ooyala strives to make use of the most current research and metrics for measuring nonprofit effectiveness, because Ooyala recognizes that doing good is about more than just having your heart in the right place. Austen McRae, a Software Engineer at Ooyala, makes the point clearly: "I want to know that, when I donate money to charity, I am actually making a difference and helping people. I give because I want to be part of the solution to a problem in the world, so I want to see evidence that the charities I give to are doing something to solve a problem."
In Wagner's words, "the nonprofit world can be very complex. Bright Funds helps Ooyala to navigate all that complexity. Offering Bright Funds is a simple and easy way to help employees find the best organizations working on the issues that matter most to them."
Benefits Realized
Since launching Bright Funds workplace giving, Ooyala has seen an increase in employee participation in workplace giving. Wagner attributes the increase in part to the ease with which employees can share the impact of their giving. "It is great to see employees sharing the impact they are making. It is inspiring to other employees—and, I think, for our company—to see that working for Ooyala is helping people to make a difference in the world," said Wagner.
Every participating employee has access to a personal 'impact timeline' that makes it easy to keep track of how their donations are being used. Social media integration helps Ooyala employees to spread the word when they are excited about an update from one of the nonprofits in their portfolio.
The Bright Funds workplace giving platform is sleek, intuitive, and enjoyable. Ooyala employees can engage in effective philanthropy and have fun while doing it. In McRae's words, "it's cool to see someone post about the same causes that you care about. It gives people a feeling of connection and builds a feeling of camaraderie."
Conclusion
With Bright Funds, Ooyala can leverage foundation-level research to help employees become effective philanthropists for the causes that matter most to them.
Bright Funds' visually, emotionally, and intellectually appealing giving experience also helps to promote employee engagement, which serves as a force multiplier to help Ooyala do more and make a greater impact. "The ability to manage their charitable giving in portfolio form is a fun way of sharing with people around the world," said Wagner. By making philanthropy fun, Ooyala can increase participation in company giving campaigns and do more good as a company.
For a rapidly-growing company with a commitment to giving back like Ooyala, Bright Funds workplace giving puts research-based, high-impact giving at employees' fingertips. Bright Funds helps Ooyala to provide employees with the tools they need to make an impact and help the causes that matter to them.